Writers are always dreaming of being published. We spend our spare hours dashing off stories to literary magazines and then sitting around hoping and waiting to receive that holiest of grails – an acceptance.
But then there's always that person who points out to you – hey, do you even read lit mags? Do you support any? Do you ever buy them?
And sometimes, we writers have to shake our heads with embarrassment and mutter something about 'time' or 'money' or 'availability'.
Well, my writer friend, I am here to disembarrass you of this awkward situation. Right here, you will find a selection of affordable literary mags that you can start supporting right now. Not only are they priced right, but they are always packed full of great stories, articles and pictures that deserve your loving attention.
The main kicker for me is always shipping. There are loads of lit mags I'd like to support but once you add postal costs it just becomes stratospherically unaffordable. For that reason, the focus here is on digital subs or electronic versions. They range from free to a couple of dollars. A few are on Patreon – meaning they enjoy the security of your monthly support and it costs you next to nothing. Some are offered through their own sites, and there are also some great mags on Issuu (although I have no love for reading on that platform).
And so in no particular order, here are some affordable lit mags you can support right now.
This was actually the first journal I was ever published in, so of course it's close to my heart. It used to be print only (I think) but now they've added a Patreon option. For just $3 a month you receive a copy of the digital edition which comes out twice a year.
Alternatively, if you're not interested in the other goodies that Patrons receive (invites, Christmas card, etc), you can buy single digital editions for just $5 each. Not bad for a novel-sized journal stuffed full of stories!
If you're after sci-fi at terrific value, look no further than Apex. These guys are also on Patreon and your $3 gets you a digital edition every month!
Each issue has 3 – 4 pieces of short fiction, poetry, and interviews with authors and artists. And it also features some really nice artwork. This is a mag that cares about how it looks and feels. It's also a professional market, meaning it actually pays its writers!
Now if you are particularly skint, that's okay – each of their stories appears online for free a few weeks after publication.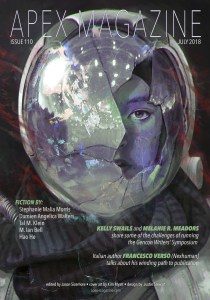 Not only do the folks at Fireside publish a great mag every month, they also support lots of anti-fascist causes in the US. So for a spec reading leftie like me, they're fab!
If that also sounds good to you, you may want to sign up for their $5 a month sub plan. It's more pricey than the others listed here, but they're a good mob. Also, it looks like it's still only $2 a month if you check out their Patreon.
AND most importantly, they pay their artists and writers.
I love these guys. They make a beautiful magazine twice a year with genuinely excellent stories.
They also somehow manage to get interviews with some really big names – Margaret Atwood, Stella Duffy, Ursula Le Guin, Kim Stanley Robinson! A just phenomenal round up of fabulous writers.
Now, a print edition will set you back £7 and the digital version is £5. But, they very kindly put their issues up on Issuu about two months after publication. Did I mention I love these guys?
If you want a regular dose of out of this world sci-fi at a ludicrously affordable price, then Shoreline of Infinity is for you. The digital sub is just $1 a month!! Holy smoking metal. The print mag will set you back a fiver but I'm not sure if that includes shipping.
This is yet another mag that is really nicely put together. They have quality illustrations and it's just a pleasure to read.
Shoreline was recently shortlisted for Best Magazine/Periodical in this year's British Fantasy Society's Awards, so you're guaranteed of quality. They also host a regular sci-fi event in Edinburgh called Event Horizon.
It has been a longstanding dream of mine to be accepted into Neon, but no luck yet! It's a beautiful little lit mag, published twice a year.
Their digital issues are available at a 'pay what you can afford' option, which is so nice it makes me want to cry. One time, when I was feeling a bit flush, I did splash out and get a print subscription. But the shipping fees just killed me. Now I regularly download their issues, although if they had a recurring option I would happily pay that.
I've just realised that a lot of these skew sci-fi or fantasy. Not sure why that is. I guess there's just a lot more of them out there. They also tend to be more affordable AND they often pay their writers. And then again, they're probably more enjoyable than some of the more 'serious' journals out there… 🙂
Right, well, on that note, I better go and tackle my TBR pile! Happy lit mag reading.